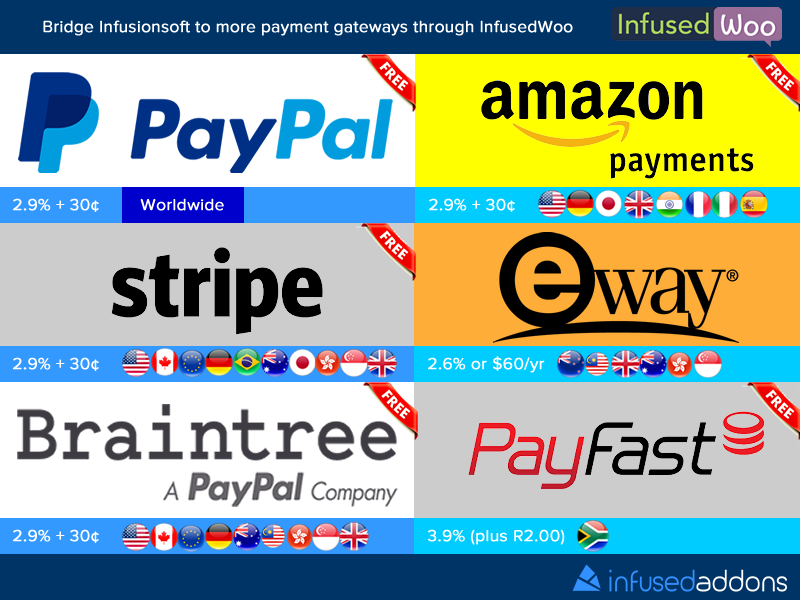 By default Infusionsoft only connects to few merchant solutions like Sagepay, Authorize.net, or WePay. Because of this, many business owners have some trouble finding a good payment gateway during the early stages of their business. This is especially true for startup business owners and to businesses located not in US or UK. Most merchant accounts Infusionsoft connects to are designed for big businesses and only supports major countries like US or UK.
With Woocommerce, you have more options and you can use payment gateways designed for startups such as Stripe, Braintree or Amazon Payments. If you are located in India you can use Amazon payments in woocommerce and connect to infusionsoft using InfusedWoo. Same is true to South Africa (Payfast), Japan (Stripe), Brazil (Stripe), Hong Kong (Stripe), Singapore (Stripe), and as well as Malaysia (Braintree).
Most of these payment gateways don't require sign-up and setup fees and you only pay a small percentage per transaction. These payment gateway extensions in woocommerce are also free (except eWay):
Braintree: https://woocommerce.com/products/woocommerce-gateway-paypal-powered-by-braintree/
Stripe: https://woocommerce.com/products/stripe/
Amazon Payments: https://woocommerce.com/products/pay-with-amazon/
PayFast: https://woocommerce.com/products/payfast-payment-gateway/
eWay: https://woocommerce.com/products/eway/
With InfusedWoo you can now experience Infusionsoft whereever your business is located and enjoy the low transaction fees of payment gateway providers.