In InfusedWoo version 2.1, we have released Thank You page control feature. With this feature, you can now change the redirect URL after your customers finish their checkout.
To give a little background, woocommerce by default sends customers to an "order-received" page, which shows the order information and is a quite flat / dry page for your customers to be redirected to after they finish their checkout.
For Infusionsoft-powered businesses, controlling thank you pages is very important. For example, we want to personalize the thank you page based on the products they purchased. Or perhaps, we want to send them to a special offer page after their purchase or give them a special coupon code. Or for some techies out there, we want to send them to different service after purchase and pass contact information in the URL to trigger some fulfilment processes for example.
Woocommerce doesn't provide this functionality, so we created this feature. In InfusedWoo, this can be accessed in More Integration Options → Thank You page control.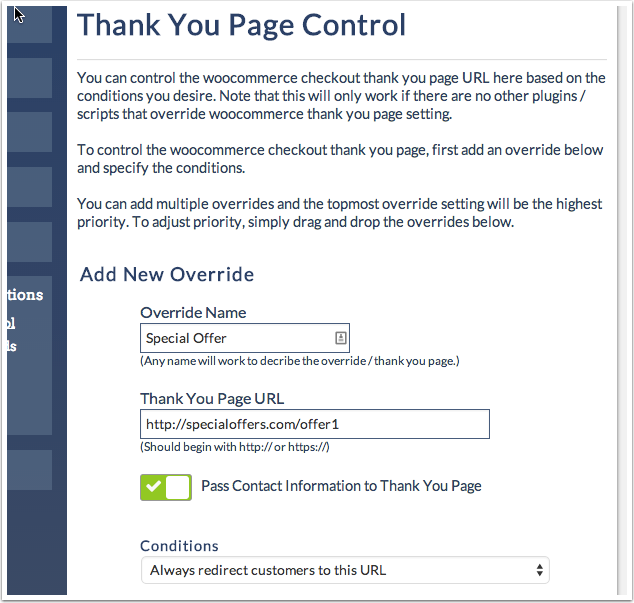 The process is simple, simply add a new thank you page override. Specify the override name and the thank you page URL and hit save and done!
You can also pass contact information to the thank you page and specify some conditions on when to redirect customers to this special URL.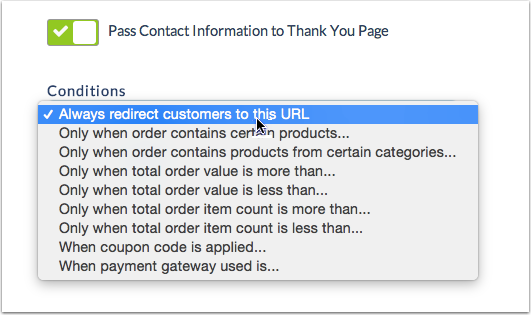 For more information about InfusedWoo, go to woo.infusedaddons.com